Location:
Leesburg, Virginia, USA (In Loudoun Co.; 20 mi. to Dulles; 45 mi. West of Wash.,DC)
Accommodations:    
3 Bedrooms; 3.5 Baths (Sleeps 6-7)
Ask about the efficiency apartment for 2 more!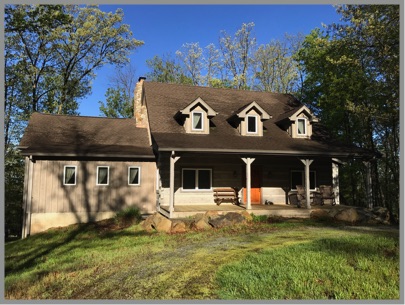 Inside you'll be surrounded by family antiques and artwork as well as all the modern conveniences for your complete comfort. It offers an open floor plan with large living room, kitchen and dining areas with a large stone fireplace as the focal point. The master bedroom is also on the first floor; with all of its windows it feels like you are in a tree house! There are two bedrooms upstairs one with 2 twins and the other with a queen bed, and a "Jack 'n Jill" bathroom. A den as well as front and back porches offer options of solitude; the back deck is screened in on one side with wicker furniture to relax in and enjoy the sunset.
"Windridge" is in the country, but the big cities of Washington, DC and Baltimore, MD are a reasonable day trip from here. If you want to remain close by, Leesburg and Hamilton are just 5 minutes away, with the former being larger of the two, but both are lovely with shops and attractive houses all within walking distance of their downtown area. Venturing out, just outside of Leesburg, is Leesburg Corner Outlet with great, popular discount stores. Many historical buildings can be toured in the county; one, just south of Leesburg, is Oatlands Plantation and offers tours most of the year. If you venture here to visit wineries, you've come to a perfect spot -- one is within walking distance. Also within an easy drive are Luray Caverns and Charles Town Races for even more variety.
The Northern Virginia Regional Park Authority owns and operates many parks in the area, some with golf courses, pools, farm demonstrations, a corn maize and all sorts of recreational activities. White's Ferry is just north of Leesburg and can take you across the Potomac River to Maryland. And, you'll notice that Civil War history abounds in Loudoun County with the largest engagement taking place at Ball's Bluff, northeast of Leesburg. For those desiring a more physical or mental challenge, there is the Ida Lee Park and Recreational Center and the Rust Library; both are conveniently located next to each other just north of Leesburg on Rt. 15 and have been remodeled in 2009 offering many varied activities for all ages.
This house, called "Windridge", is very special; the logs were constructed by two men with a huge crane and completed in 2005 by talented finish carpenters. It sits on a hill surrounded by its own 16.6 acres and overlooks over 800 acres of farm land, kindly placed under conservation easements, with the Blue Ridge Mountains in the distance.
Early morning - springtime